by Prithvi N Shahdeo

on 19 January, 2022
Title: Work Rules: Insights from Inside Google That Will Transform How You Live and Lead
Author: Laszlo Bock
Theme: Non-fiction
Publisher: Grand Central Publishing
 Published: 7th April 2015
 Pages:  416
Author Overview:
Laszlo Bock is a Romanian-born American businessman who is co-founder and CEO of Humu. He was formerly the Senior Vice President of People Operations at Google, Inc. Laszlo Bock led Google's people function, responsible for attracting, developing, retaining, and delighting "Googlers." Bock's earlier Experience spans executive roles at the General Electric Company, management consulting at McKinsey & Company, start-ups, non-profits, and acting.
During Bock's tenure, Google was named the Best Company to Work for more than thirty times around the world and received more than 100 awards as an employer of choice. In 2010, he was named Human Resources Executive of the Year by Human Resources Executive magazine.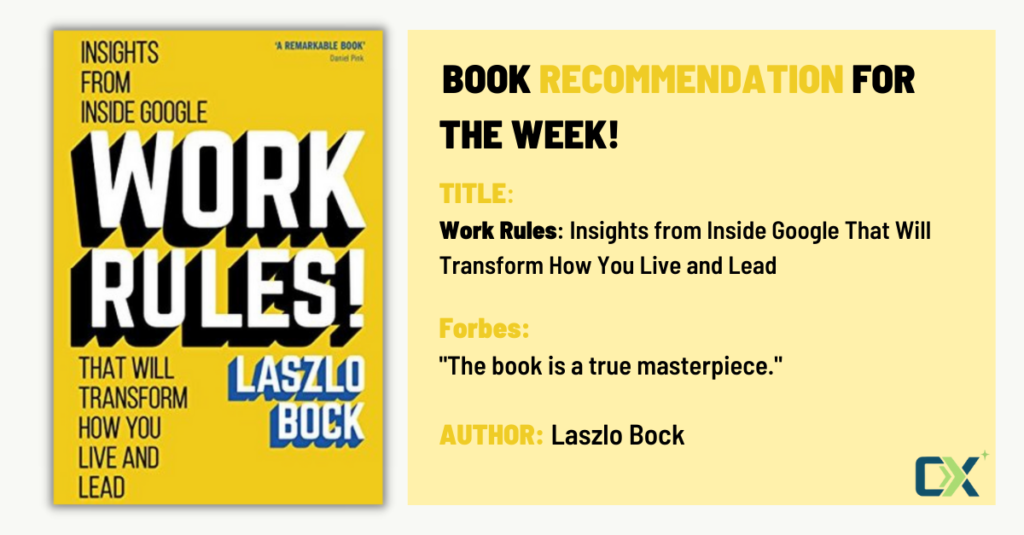 Quote: 'People can exist, without companies, but companies can't exist without people.'
"We spend more time working than doing anything else in life. It's not right that the Experience of work should be so demotivating and dehumanizing." So says Laszlo Bock, former head of People Operations at the company that transformed how the world interacts with knowledge.
Work Rules outlines what drives Google's incredible success and why they do what they do. The author provides an insider's view of what makes Google tick, as well as how you and your firm might replicate some of their effective strategies.
Mentions:
Google's operating assumption is "Anything we are doing; we can do better."
The most talented and creative people cannot be forced to work.
Google's greatest constraint on growth has always been their ability to find great people. People that can solve today's problems and unknown problems in the future.
The book discusses how Google has created such a vibrant culture, attracted top worldwide talent, and achieved exceptional results.
The book includes research insights, behavioral economics, and a thorough understanding of human psychology, as well as a slew of examples from a variety of industries, including well-known companies that also happen to be dreadful places to work, as well as lesser-known businesses that achieve spectacular results by valuing and listening to their employees.
Work Is Everything! Shows how to achieve a healthy balance between creativity and structure, resulting in success that can be measured both in terms of quality of life and market share. Read it to learn how to develop a stronger company from within rather than from the above and rediscover your passion for what you do.
The book is jam-packed with anecdotes and examples that will help us better grasp Google's beliefs and why it does what it does.
Reviews:
Kirkus Reviews: "An intriguing profile of an innovative company that continues to shake up the world."
Library Journal: "Good guidance from the head of Google's innovative People Operations, who wants to show companies how to attract and keep the best managers. Love the read-it-two-ways title."
Publishers Weekly: "Anecdotes about Google's founding and history mingle with discussions of management theory, psychology, and behavioral economics to create a fascinating and accessible read."
Ram Charan: "WORK RULES! is an exceptional book aimed at any manager who wants great ideas for encouraging success from their team an instant classic for the management shelf."
Indra K. Nooyi: "With a clear-eyed, data-driven look into today's workplace, Bock reveals the non-traditional practices that can fundamentally transform businesses of all kinds."