by CareerXperts Team

on 19 April, 2023
Looking for guidance to find your true calling or feeling stuck in your current career path? Look no further than CareerXperts and our latest initiative, CareerTalks. We are a team of dedicated experts with a passion for helping individuals like you achieve their professional goals.
At CareerXperts, we specialize in providing guidance and support to help you succeed in your career. With our years of experience and expertise, we understand the challenges you may face and are equipped with the tools to help you overcome them.
Our new initiative: CareerTalks – Deep Career Conversations!
Introducing our latest initiative, CareerTalks, where we take our services one step further. CareerTalks is designed to provide a platform for individuals to interact with our experts and discuss their career-related queries, challenges and seek guidance. We have helped many individuals in the past to strategize their career path and assist them in identifying their skills and strengths.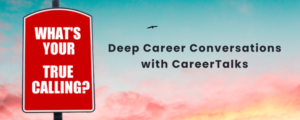 A Deep Career Conversation is like a Career Diagnosis where we take a closer look at your current career situation and identify any career symptoms that may be holding you back. So, whether you are just starting out in your career or you are a seasoned professional, take the time to have Deep Career Conversations.
With CareerTalks, you can gauge for answers like:
How do I identify my True Calling?
Startup or Big Company: which is my fit?
Is my Compensation on par with Industry Standards?
What is Work-Life balance to me?
What is my Career Longevity?
What are the signs that it's time for me to make a Career Change?
And many more such questions which will help you uncover your true potential. Explore our Career Enablement Program to gain more insights about our all-inclusive initiative.
Fast-track your career growth with our services and tailor-made support.
Follow us on LinkedIn – CareerTalks by CareerXperts and get insights, career tips, and updates on the latest trends and developments in the industry.
To know more about us, please visit: Our Purpose and feel free to write to us at info@cxcareertalks.com to get your Career Enablement journey started!