HIGHLIGHTS:
Title:

Who: The A Method for Hiring
Author:
Randy Street and Geoff Smart
Published:
September 2008
Pages:
208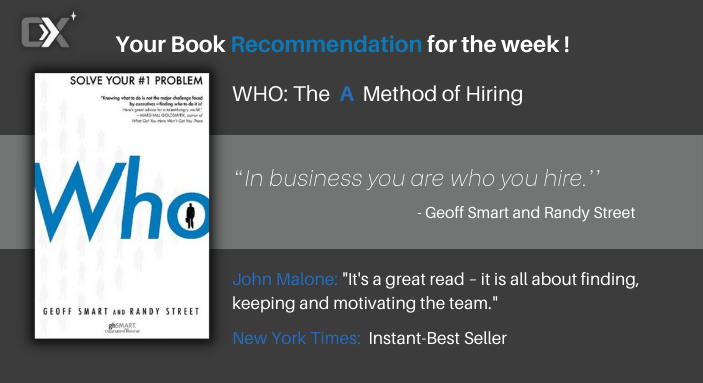 It is evident that companies achieving great heights are fueled by a strong workforce accelerating rapid growth, for which they are praised and held up as positive examples. On the other hand, the downfall can be attributed to the exact cause. The workforce is the stumbling block. You've probably heard how tough it is to hire individuals, especially when the position is complex and how tedious the interview process can be.
WHO – The A method of hiring; the book instantly became the New York Times Best Seller
In this book, the Authors Geoff Smart and Randy Street convey an effective solution to the evident problem faced by the firm's all around the world – 'Unsuccessful Hiring.'
The answer described in the book is based purely on research and data; hiring mishaps cost a company on average $1.5 million or more per year, and statistics show that typical hiring managers have a success record of less than 50%.
It's all about who, not what; 'who' refers to the individuals you engage in making the 'what' decision. The book asserts that the 'who' issues may be easily avoided – this assertion is based on 1,300 hours of interviews with more than 20 billionaires and 300 CEOs.
The 'A' technique cited by the authors focuses on the core principles that everyone can apply and has a 90% success rate.
Mention: It doesn't matter what systems, processes, brand, intellectual property, technology, or other assets you have if you hire the wrong guy; he'll destroy them all. It doesn't matter what you have in place if you recruit the appropriate guy because he'll figure it out and make it work – acquiring the right individuals will give you a lot better chance of success.
It is how you define your goals, whether you're looking for someone as a CEO or someone who can get you food cooked. It's all about 'who' and the process will help you discover 'how' to avoid common voodoo mistakes, generate a flow of 'A' players, ask the right interview questions to separate A players from B, C players, and attract the person you want to hire by emphasizing the points the candidate cares about most.
The steps mentioned in the book aren't tough to put into practice or rocket science, but they are more challenging than doing nothing. Remember the examples of terrible hires you've heard about and the influence they can have on a company's growth curve. We believe that spending time reading 'Who' will assist you in implementing new methods that will help your company thrive.
What can we do to improve the success rate of our hiring process?
Why do we make so many costly hiring errors?
How do we put a talent selection and development mechanism in place?
'Who,' is the Answer.
Reviews – 
The best sellers list:
The New York Times
USA Today
The Wall Street Journal
Wayne Huizenga: "Geoff Smart and Randy Street have done an amazing job distilling the best advice from some of the world's most successful leaders."
John Malone: "It's a great read – it is all about finding keeping and motivating the team."
William Johnson: "ghSMART has helped talent a competitive advantage at Heinz."
William Koch: "Better hiring can win you races and help you win in your career."
Ken Griffin: "No investment is more important than building our teams, and ghSMART helps us do it right."
Alec Gores: "CEOs and middle managers can benefit from this book."
Roger Marino: "This book will save you and your company TIME and MONEY. In business, what else is there?"