by Prithvi N Shahdeo

on 12 January, 2022
Title: The Code Breaker: Jennifer Doudna, Gene Editing, and the Future of the Human Race
Author: Walter Isaacson
Theme: Non-Fiction
Publisher: Simon & Schuster
Published: 9th March 2021
Pages:  560
Author Overview:
Walter Isaacson is a businessman and journalist from the United States. He was named Chairman and Chief Executive Officer of CNN in 2001. Isaacson is best known for his magisterial biographies in literary circles, which are erudite and meticulously researched while also being highly entertaining.
He has also served as the editor-in-chief of Time Magazine. Isaacson is known for his written biographies of Benjamin Franklin, Albert Einstein, Steve Jobs, and Henry Kissinger.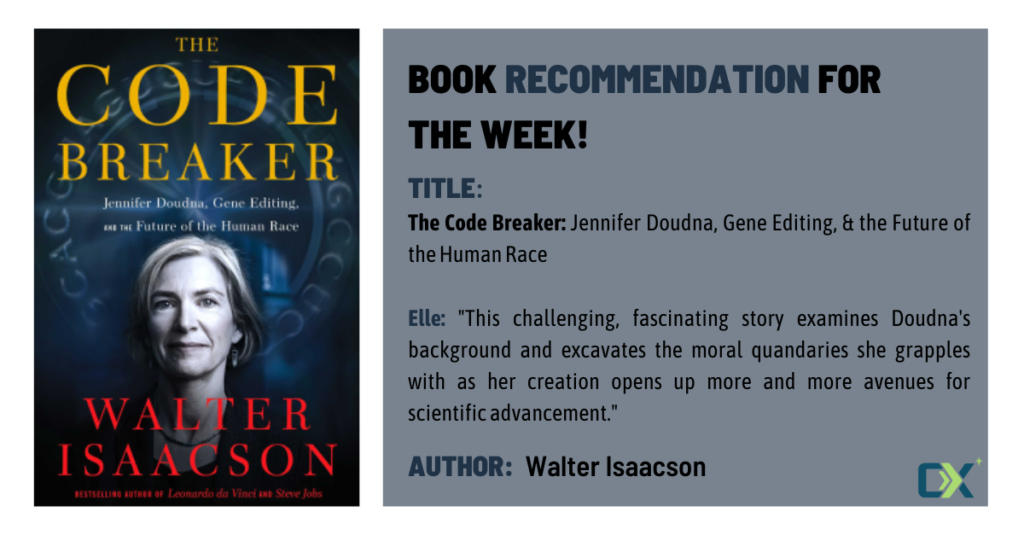 The Code Breaker breathlessly follows Jennifer Doudna from a childhood spent trekking through the wilds of Hawaii to her pioneering work harnessing a bacterial defense system to rewrite the code of life and the bitter patent battle that ensued and ultimately winning the ultimate credit, the Nobel Prize.
Jennifer Doudna, who grew up being, told that women can't involve themselves with science, would become one of America's greatest thinkers and kindest genetic researchers.
It all began when Doudna, then in sixth grade, discovered a book her father had left  titled "The Double Helix, by James Watson," and as she flipped through the pages, she got intrigued by the dramatic drama surrounding the competition to discover the code of life.
The book describes how Doudna and her collaborators, driven by passion, transformed a natural curiosity into an invention that changed the human race: an easy-to-use tool that can edit DNA. Isaacson uncovers and demystifies the stigma around high-level thinking and biologic research in "The Code Breaker."
In a very elegant approach, the book covers the parallel storylines evolving beside one another: the life and work of Jennifer Doudna and the emergence and popularity gained by CRISPR. The author brings to the light the other unknown scientists and shed light on them, making it clear that no scientific discovery is made by a single scientist.
The book talks about how the world needs to make more room for women and others to enter scientific fields of study; also, greater diversity leads to amazing outcomes.
THE "Code Breakers" is an examination of how life as we know it is about to change and a brilliant portrayal of the woman leading the way. This book will shed light on the term why scientists are known as true heroes.
Reviews:
Oprah Magazine.com: "Isaacson's vivid account is a page-turning detective story and an indelible portrait of a revolutionary thinker who, as an adolescent in Hawai'i, was told that girls don't do science. Nevertheless, she persisted."
The Washington Post: "Isaacson lays everything out with his usual lucid prose; it's brisk and compelling and even funny throughout. You'll walk away with a deeper understanding of both the science itself and how science gets done — including plenty of mischief."
The Guardian: "This story was always guaranteed to be a page-turner in [Isaacson's] hands."
The New York Times: "The Code Breaker is in some respects a journal of our 2020 plague year."
New York Journal of Books: "A riveting expedition through biochemistry, structural biology, and academic politics that transcends the traditional scientific detective story and captures the raw, magical enthusiasm of living pioneers like Doudna and her colleagues."