by Prithvi N Shahdeo

on 22 December, 2021
Title: The Almanack of Naval Ravikant | A guide to wealth and happiness
 Theme: Non-fiction
Publisher: Magrathea Publishing
Published: 15th August 2020
 Pages: 242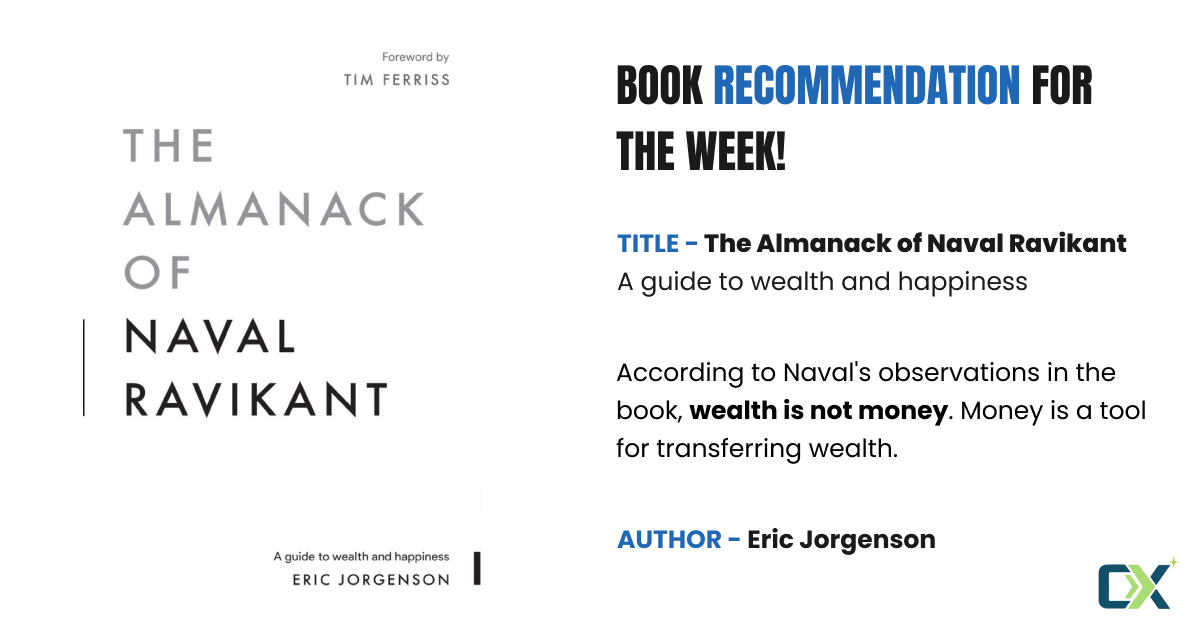 Author information: Eric Jorgenson works as a writer and product strategist. Because of the insights he got from Naval, Eric felt inspired to publish The Almanack of Naval Ravikant. He made the decision to compile Naval's ideas and make them more available to others.
Naval Ravikant is an entrepreneur and a venture capitalist & Founder of Angellist, Epinions, and Vast.com. He is an angel investor in 100+ Companies, including Twitter, Uber, etc.  Naval is well-known for his insights on entrepreneurship, investment, cryptocurrency, money, and happiness.
The desire to become wealthy is similar to all of us—all humans—yet achieving our goals may seem out of reach, but according to the author, money, and happiness are skills that can be learned.
It all started in 2018 with Naval Ravikant's tweet "How to Be Rich (Without Getting Lucky)."
According to Naval's observations in the book, wealth is not money. Money is a tool for transferring wealth. Wealth, on the other hand, is defined as objects that can earn money for you and be productive even while you sleep. Inventions, business concepts, and commodities are all examples of wealth. The bottom line is that you must work hard to become wealthy, and you must work in the right way to become wealthy.
The book's insights discuss constructing mental models, which define and serve as your foundation note. The most effective approach to building mental models is to read, and the book suggests an hour of reading every day.
The book comprises Naval's mental models and principles.
Mention: The answer is no if you can't decide! If you can't determine between two paths, take the one with the least amount of pain and the most long-term gains.
Making money is a skill you develop through time, and becoming wealthy is a matter of knowing what you do, who you do it with, and when you do it. Understanding is more important than simply working hard.
The author discusses iterated games—the gist being that if you have wealth (money, relationships, and knowledge) built on particular foundations, you will earn far more in the long run.
Learn how to market yourself. Learn how to construct. You will be unstoppable if you succeed in this.
To summarize, the book claims that in order to be happy, you must take care of yourself, eat well, and exercise – do all of these things, and the road to wealth will be much more delightful.
While money is crucial, it isn't the sole factor determining happiness. You must concentrate on improving your skills, habits, and everything else that will benefit you.
Building talents takes time, so think long-term. Find things that are significant and worthwhile to you and keep them. Enjoy the satisfaction that comes from investing in interests, pursuits, and family; the rest will follow of itself!
Reviews:
Shane Parrish: "I call Naval the Angel Philosopher, and the Almanack shows why.
Anthony Pompliano: "Highly suggest others grab a copy."
Accidentally retired: Book score: 8/10