by Prithvi N Shahdeo

on 5 January, 2022
Title: I came upon a Lighthouse – Shantanu Naidu: A Short Memoir of Life With Ratan Tata.
Author: Shantanu Naidu
Theme: Non-Fiction
Publisher: HarperCollins India
Published: 11th January 2021
Pages:  232
Author overview:
From composing music videos for social causes during his engineering days, Shantanu Naidu established him in animal welfare. He founded Motopaws, a start-up to place reflective collars on India's stray dogs to prevent nighttime traffic accidents while working as an automobile design engineer at Tata Elxsi. Mr. Ratan Tata joined the venture as a major investor.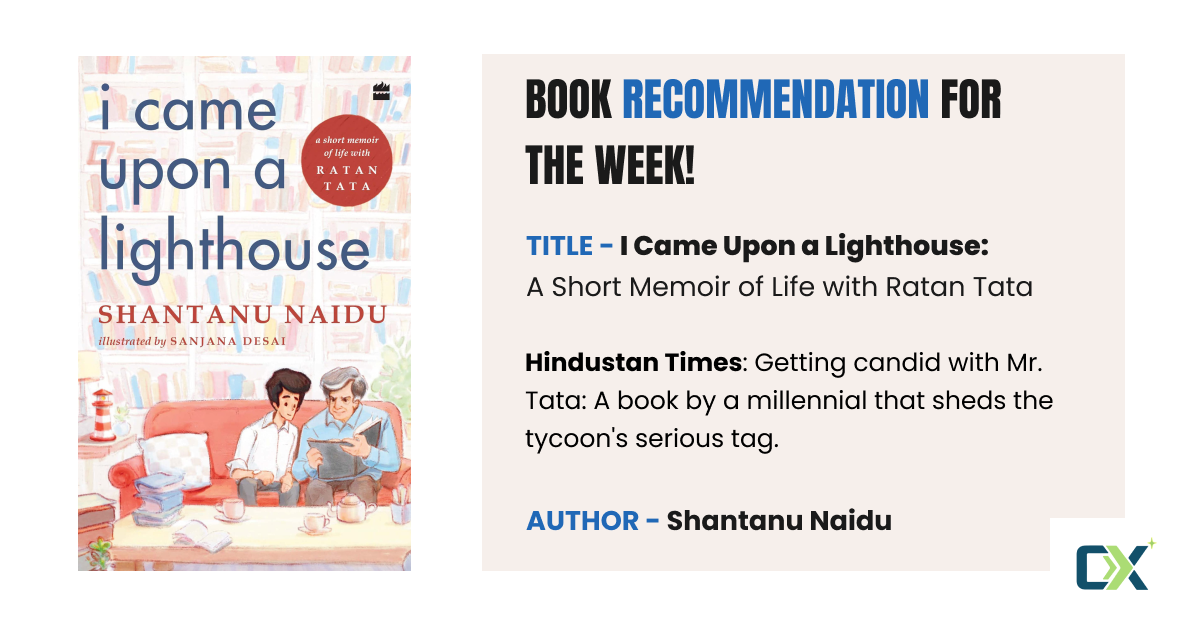 Do you believe in fairy tales? Do you believe in lifelong friendships?
Do you think friendship is a meeting of minds, even if they are radically opposed? 'I came upon a lighthouse' is a story shared by a millennial and an octogenarian (Ratan Tata).
Aside from economic milestones, the book illuminates Ratan Tata's personal life, revealing hidden facets of his nature.
Ratan Tata (renowned for his concern for stray dogs) invested in the venture because of his passion for dogs and protecting local stray canines from being struck by rushing vehicles.
The book also discusses Ratan Tata's similarities in how he handles everyone, regardless of whether they are acquaintances, friends, or even bosses.
I Came Upon a Lighthouse is both a frank and compassionate picture of a beloved Indian legend.
Ratan Tata's Note in the book: "A shared concern for the welfare of the homeless, hungry, ill-treated and abandoned dogs and cats brought Shantanu and me together. He and his young friends had been bootstrapping a small start-up in Pune to feed, care for and find homes for these poor animals,"
The book is an illustrated memoir of Naidu's candid interaction with Ratan Tata. People are known to have great respect for Ratan Tata, and 'I came upon a lighthouse' shows why!
Reviews:
The Week: Shantanu has given the world a real treat—by showing readers the most endearing side of a man who is seen as a superhero by millions.
Hindustan Times: Getting candid with Mr. Tata: A book by a millennial that sheds the tycoon's serious tag.
The Economic Times: The Ratan behind the Tata Vault
Bachi Karkaria: A unique, transcultural, age obliterating friendship between a millennial and a multinational business icon.'
Pritish Nandy: 'A millennial's tribute to his octogenarian friend with whom he shares a love for homeless dogs,…a very charming book.'
Freddy Birdy: 'A riveting, easy and effortless and very gentle and lovely read, a close up of views of one of India's most revered public figures living today.'
The Tribune: 'The book can serve as a guide to those who want to know the lesser-known facts about the doyen of Indian industry. One gets to know a side of Tata that's goofy and witty.'