by Prithvi N Shahdeo

on 4 January, 2023
Non-Fiction – Discipline Is Destiny: The Power of Self-Control
Title: Discipline Is Destiny: The Power of Self-Control
Author:  Ryan Holiday
Theme: Non-Fiction
Publisher: Profile Books Ltd
Published: 27th September 2022
Pages:  352
Author Overview:
Ryan Holiday is an American author, marketer, and entrepreneur. He is the author of several books, including "The Obstacle Is the Way," "Ego Is the Enemy," and "Stillness Is the Key." His work has been featured in Forbes, Fast Company, and Inc., and he has been named one of the top 50 business thinkers in the world by Thinkers50.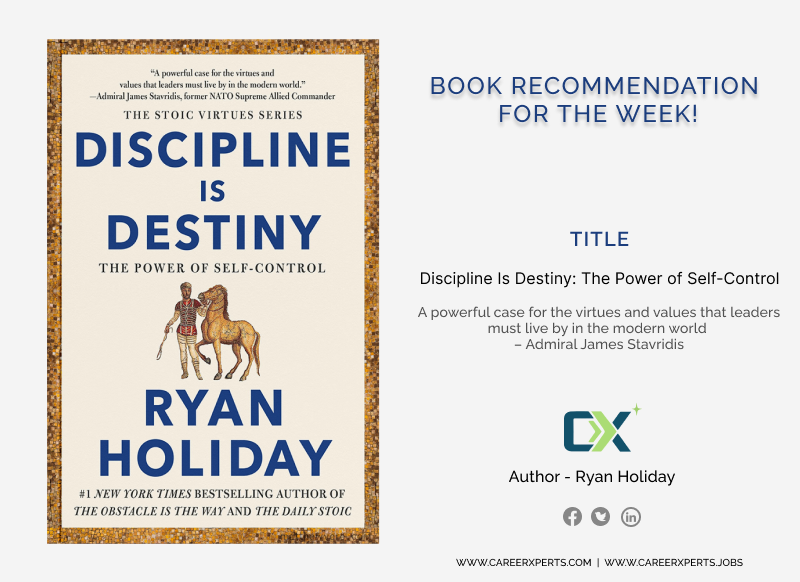 To master anything, one must first master themselves–one's emotions, one's thoughts, one's actions.
In Discipline is Destiny, Ryan Holiday draws inspiration from historical figures like Lou Gehrig, Queen Elizabeth II, boxer Floyd Patterson, Marcus Aurelius, and author Toni Morrison as well as cautionary tales from people like Napoleon, F. Scott Fitzgerald, and Babe Ruth to show us the importance of self-discipline.
Through these interesting anecdotes, Holiday demonstrates to readers the need of restraint and self-control while also warning them against the dangers of excess and hedonism.
You are not deprived by self-discipline; rather, it gives you freedom.
Weary of where you are? Board a plane. Workplace dissatisfaction? Switch jobs. Desire pizza? Order it. Have a suggestion? Advertise it. People can do and access practically whatever they want in the majority of today's world with the touch of a finger. Despite all of this independence, a great deal of us is miserable. Why are we misbehaving?
President Eisenhower famously said that freedom is the "opportunity for self-discipline."
The key lies in this.
All of these things that are intended to liberate us—technology, privilege, success—will simply send us spinning aimlessly if we lack moderation or the virtue of self-discipline. Access without self-control, then, results in imbalance and dysfunction.
Take control of your body before it takes control of you.
One of the greatest baseball players of all time was Lou Gehrig. In his 17 years playing for the Yankees, he hit 495 home runs, including 23 grand slams, and didn't miss a single game, setting a record he held for more than 50 years.
Lou was not a natural athlete though. He was clumsy and overweight as a child. How did he come to play 2,130 games nonstop while being injured and ill, becoming the legend that he is now?
He trained harder than anyone else – and refused to quit. It's safe to say Lou knew a thing or two about self-discipline.
The Stoics lived simply and exercised frequently in order to build the physical toughness needed to handle life's challenges, not so they could flaunt their abs. Being physically self-disciplined entails improving your endurance and making long-term investments in yourself for a longer, healthier life without any of that "live fast, die young" nonsense. Realizing your potential and having the ability to overcome challenges like lethargy, atrophy, and difficult circumstances are key.
Reviews:
All of his books are amazing – you have got to get into Ryan Holiday, it's as simple as that. If you don't, you're doing yourself a disfavour. – Chris Evans
A powerful case for the virtues and values that leaders must live by in the modern world – Admiral James Stavridis
Ryan Holiday is among the most psychologically wise writers I know – Angela Duckworth
Ryan Holiday is one of his generation's finest thinkers – Steven Pressfield